The Hotel Saisera is located in Valbruna (UD), 900 meters above sea level, overlooking the charming Val Saisera.   The Hotel is surrounded by greenery and a large sunny garden, an ideal place for family tourism.
The facility lies in a tourist area, happy to welcome guests both in summer and winter, strategically located a few kilometres from Austria and Slovenia.  The area lends itself to the most varied sports activities and offers countless possibilities for excursions. Venue of the 2003 Universiade, it is particularly well-equipped for winter sports.
The Hotel Saisera is the starting point for a series of summer and winter itineraries through the enchanted woods with an imposing view of the magnificent Julian Alps. The Ideal departure for a slow-paced walk, savouring the scent of nature and admiring its infinite beauty.
The Hotel offers a rich buffet breakfast with a choice of sweet and savoury dishes. For those who want to have lunch at the hotel, our chef offers a light lunch menu to refuel without weighing yourself down. The hotel, housed in a historic residence, has a restaurant with a menu based on zero-km products and quality raw materials, with a view to reinterpreting the typical recipes from Tarvisio and Val Saisera. Dedicated menus are available for children and the kitchen can cater for to those who want vegan, vegetarian and Gluten Free meals.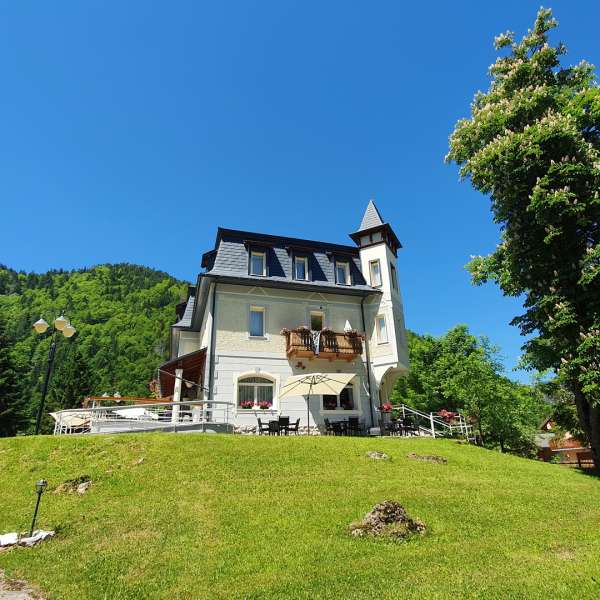 The Hotel Saisera offers its guests an enchanting mix of nature and history. The building, designed by Valbruna architect Andrea Keil, was completed in two phases: the first in 1910 and the second in 1926. Since its opening, the hotel has been a meeting place for hikers, nature lovers and internationally renowned hunters. Among its illustrious guests are the King of Saxony, Frederick Augustus, and Julius Kugy, father of modern mountaineering. Umberto II of Savoy also stayed here in 1938.
***
Hotel Saisera Valbruna
The Hotel Saisera, located a few km from Tarvisio, offers its guests a unique combination of wonderful nature and the historical sites of Valbruna in the Tarvisio area, with a spectacular view of the Julian Alps.
The hotel is the ideal location for both summer and winter excursions through enchanted woods, admiring the beauty of nature and restoring a feeling of balance vitality.