The hotel, whose main body dates back to 1889, is happily nestled overlooking the coast of Trieste from where it enjoys an enchanting panoramic view of the gulf and the castle of Miramare (reachable on foot). In fact, this stretch of coast fascinated Maximilian, Archduke of Austria and brother of Emperor Franz Joseph, to the point that he decided to build his wedding residence for Charlotte of Belgium, who later became his wife, here.
The "Riviera" is the ideal destination for those who love to surround themselves with nature and the magic of the sea. Away from the hustle and bustle of the city, but strategically close to shops and nightlife, it is only 10 minutes by car from the centre of Trieste. The cuisine of its restaurant "Le Terrazze", with its unique view of the gulf, is classic, Italian, with some Austro-Hungarian contaminations, without lacking interesting touches of innovation. The wine list is remarkable with more than 200 labels. The only hotel in the city with its own private beach, served by a panoramic lift from the hotel, it is also a priceless surprise for wellness lovers: the EXENTIA SPA literally has the sea "inside" and the holistic routines flanked by expert professional staff, complete the status of total relaxation that this location provides its guests.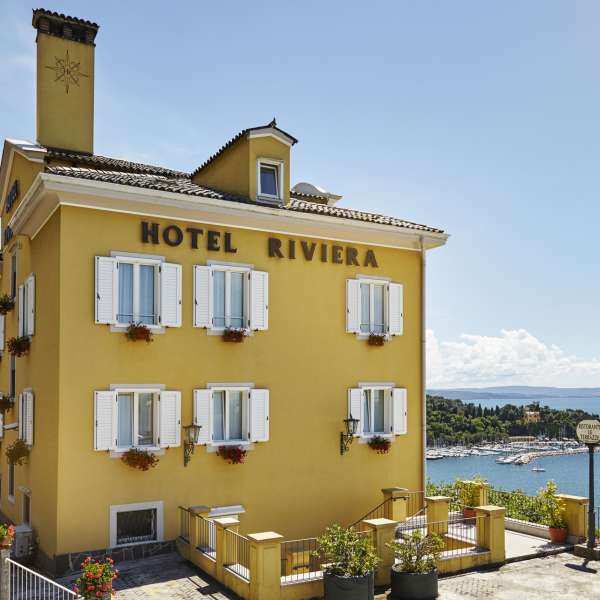 From June to September, the hotel is also connected to the city centre by sea: a relaxing fifty-five-minute cruise on the "Delfino Verde" leaving from the bay of Grignano and docking at Molo Fratelli Bandiera in front of Piazza dell'Unità d'Italia, the beating heart of Trieste.
WWF staff organise snorkelling and diving excursions in the WWF marine reserve surrounding Miramare Castle.
During the filming of The Silence of Water 2, a limited number of our guests were allowed to watch the filming from a privileged backstage position.
Set in a renovated building dating back to 1898, located on the coast of Trieste, a few metres from Miramare Castle and Grignano Bay, the Hotel Riviera offers modern rooms with a sea view, a panoramic wellness centre and direct access to the beach in summer.