Palazzo Lantieri is located in the historic centre of Gorizia, immersed in suggestive scenery. Visiting this prestigious historical dwelling, with its harmonious blend of modernity and tradition, is a unique experience. The large and elegant rooms that welcomed royalty, emperors and writers such as Goethe, Goldoni and Casanova in the past are now open to all those who want to be seduced by their timeless appeal.
Palazzo Lantieri offers its visitors a suggestive atmosphere, with a rich history and cultural heritage, but all this does not suffice to fully understand its essence. It is for this reason that the hosts provide the opportunity to learn about the historical course that determined the structure, the aesthetic and architectural choices and aspects of the Palace, which has always been closely linked to the events in the life of the Lantieri family.
Guided tours allow visitors to admire the Hall of Frescoes, the Gallery of tiles, the Porta Oriente Tower, as well as the splendid Persian Park. Guests who want to enrich their experience at the Palace can choose customized solutions that also include aperitifs, lunches and dinners.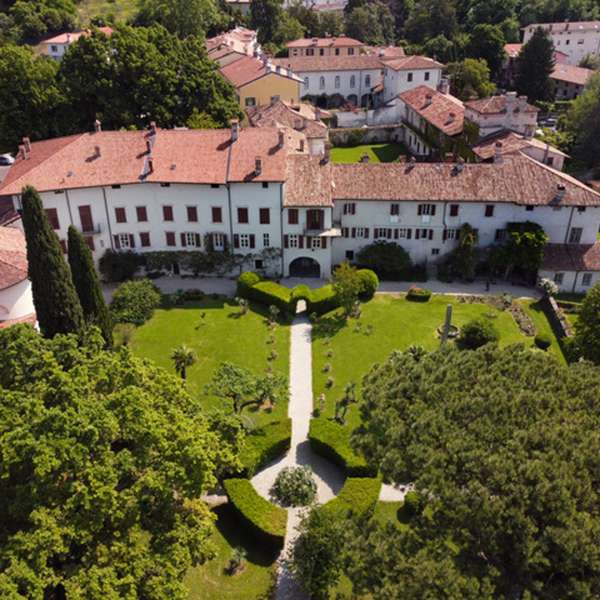 The Lantieri family has lived in the Palace for over 5 centuries. The rooms are home to installations by the best international avant-garde artists, works which have become a symbol of a continuing dialogue between past and present, memory and modernity, and history and art.
Hospitality, elegance and comfort.
Palazzo Lantieri, was established as a fortress in the fourteenth century, and over time it became a noble palace whose famous guests have included the French Royal Family, Pope Pius VI, Maria Theresa of Austria, Napoleon, Goethe, Schiller, Goldoni, Pietro Metastasio, Casanova and Lorenzo Da Ponte.
Film location to discover