Halfway between land and sea, on the edge of the nature reserves of the mouth of the Isonzo, Cona Island and Val Cavanata, on the banks of the Primero channel, and a step away from the most fascinating places rich in history and culture of Friuli, lies the Boutique Hotel "Wild Geese"; suggestively located, and an innovative and unique structure in the regional panorama.
Seven charming suites overlook the picturesque lagoon of Grado. The modern and functional spaces, combined with the use of natural materials and colours, have been designed to provide you with a feeling of well-being and a multi-sensory experience, a place to feel pampered where you can forget the noise of everyday life to find balance and serenity.
The hotel, which can also be reached by sea with a landing at the private mooring pier, offers a panoramic terrace and a reserved area with a solarium and a panoramic hydromassage pool.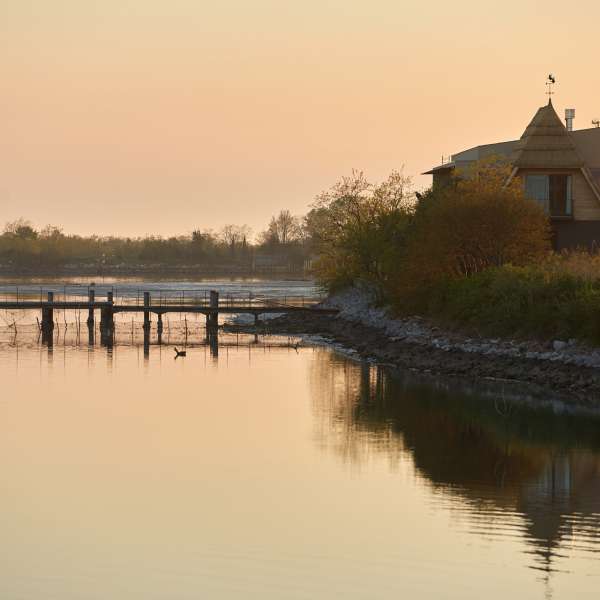 The "Wild geese – Boutique Hotel" is an ecological structure and has become one of the few Italian facilities with European Ecolabel eco-sustainability certification.
The Cavanata Valley stretches as far as the eye can see, with more than 260 species of birds including flamingos, herons, swans and wild geese. The hinterland is inhabited by a multitude of roe deer. There are binoculars in each room for those who want to relax birdwatching and contemplating nature. The Alpe Adria cycle route, which, with its 410 km, starts from Salzburg and arrives in Grado, passes a few metres from the Hotel in one of the most suggestive stretches of its route.
Oche selvatiche – Boutique Hotel
Our hotel is an oasis of peace and fresh air in the heart of the lagoon of Grado, nestled between the expanses of yellow flowers of the Cavanata Valley and the wildlife reserves of the mouth of the Isonzo.
It was founded on the dream of its owners, linked to Friuli by a long family tradition, to share the benefits of this uncontaminated land with those who want to immerse themselves in nature to recharge and find serenity.