In 2014 we will have the centenary of the First World War.
During the Great War, Friuli Venezia Giulia was the scene of battles between the Italian and Austro-Hungarian armies that fought each for many months. The Isonzo and the Trieste Karst, the Julian Alps and the Pre-Alps, the Carnic Alps and the hills along the line of the Tagliamento river were where the battles took place, while the whole area of the plains became a great rear line in the service of the armed forces and then was invaded by Austro-German after the defeat at Caporetto.
On the centenary, and in conjunction with the launch of several initiatives in the area recalling this tragic event that changed history, we wanted to build this imaginary journey dedicated to the films made in Friuli Venezia Giulia that tell the stories related to the "Great War", a theme which over the past sixty years has been a great source of inspiration for many films.
A journey to discover a selection of movie sets such as those of Black Feathers, A Farewell to Arms, The Great War, The Girl and the General and Holy Cow!
Thanks to its suitability for sets, its nature as a frontier land and the conservation of the area, with still a lot of material evidence of the Great War (trenches, tunnels, cannon, shrines, cemeteries…), there are many directors – such as the maestro Mario Monicelli and some Hollywood directors – who have chosen Friuli Venezia Giulia as a backdrop for their films.
A journey through the films that aims to help us learn the history of a multicultural land divided between love and hate, nationalism and identity, plains and mountains, marginalization and integration. And above all, to keep alive the memory of facts, achievements and places that a hundred years ago marked the history of this area and which can now be visited and rediscovered in a new way.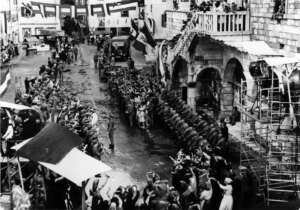 Masterpiece in the history of cinema, the film is an ironic and poignant portrait of life in the trenches during the First World War. Starring Oreste Jacovacci and Giovanni Busacca as soldiers stripped of rhetoric, coward-heroes. It attracted a lot of controversy over its content and hard-hitting viewpoint. Thousands of real soldiers were provided by the Ministry of Defence for the crowd scenes. Among the locations, all in the province of Udine: Sella Sant'Agnese (where a billboard near the church shows some scenes of the film), Nespoledo di Lestizza, Palmanova and Venzone, known today for its pumpkin festival. Each year